Introducing Instagram Threads, a powerful new platform designed to foster authentic connections and deepen brand awareness.
In the ever-evolving landscape of social media, staying ahead of the curve is essential for your online coaching business. In this article, we'll unlock the magic of Threads and explore how you can utilize it to captivate your audience, showcase your offers, and amplify your brand presence.
Get ready to set off on a journey of personalized engagement and targeted storytelling!
The Story Behind Threads: Unveiling the Platform's Purpose
Instagram Threads has unique features tailored for intimate, one-on-one conversations. This new platform enables you to strengthen your connection with your audience, create meaningful interactions, and showcase the heart and soul of your online business, along with your personal brand and unique selling points.
Crafting Your Threads Persona: Reflecting Your Brand's Essence
Make sure to curate an authentic Threads persona that aligns with your personal brand identity. Take some time to craft an engaging bio, make sure your profile picture clearly shows your face (not required but highly recommended), and infuse your feed with original posts along with thoughtful replies and shares that let people know who you are, what your interests are, and some things that you strongly believe in.
Personalized Connection: The Magic of Close Friends
Learn how to leverage the Close Friends feature in Threads to create an exclusive community for your most dedicated followers. Engage with them on a deeper level, share exclusive content, offer insider tips, and build a sense of belonging. Watch as your brand loyalty and advocacy grow exponentially with this super-personalized feature!
Authentic Storytelling: Captivating Your Audience
Go all-in with the power of storytelling on Threads to captivate your audience. Explore various formats such as short text, photo updates, videos, and longer 500-character (that's the max) posts that offer a glimpse into your daily life as a thriving coach or course creator. Showcase the transformational power that your offers and programs have had on your life and connect with your audience on a personal and emotional level.
Targeted Engagement: Nurturing Relationships
Discover how to use Threads' features, like customizable status updates, to nurture relationships with your audience. Engage in one-on-one conversations, respond to messages promptly, and provide personalized support. By fostering meaningful connections, you'll create brand advocates who will shout your message from the rooftops and maybe even become affiliates for your programs.
Amplifying Reach: Cross-Promotion and Collaborations
Explore the possibilities of cross-promotion and collaborations on Threads. Learn how to partner with wellness influencers and personal brands to expand your reach and tap into new audiences. Unleash the collective power of collaboration to amplify your brand presence and unlock new opportunities.
Threads is more than just a messaging platform; it's an exciting opportunity to amplify your brand and forge deeper connections with your audience. Embrace the power of personalized engagement, authentic storytelling, and targeted interactions. Let Threads be your gateway to heightened brand awareness, increased enrollments, and elevated success.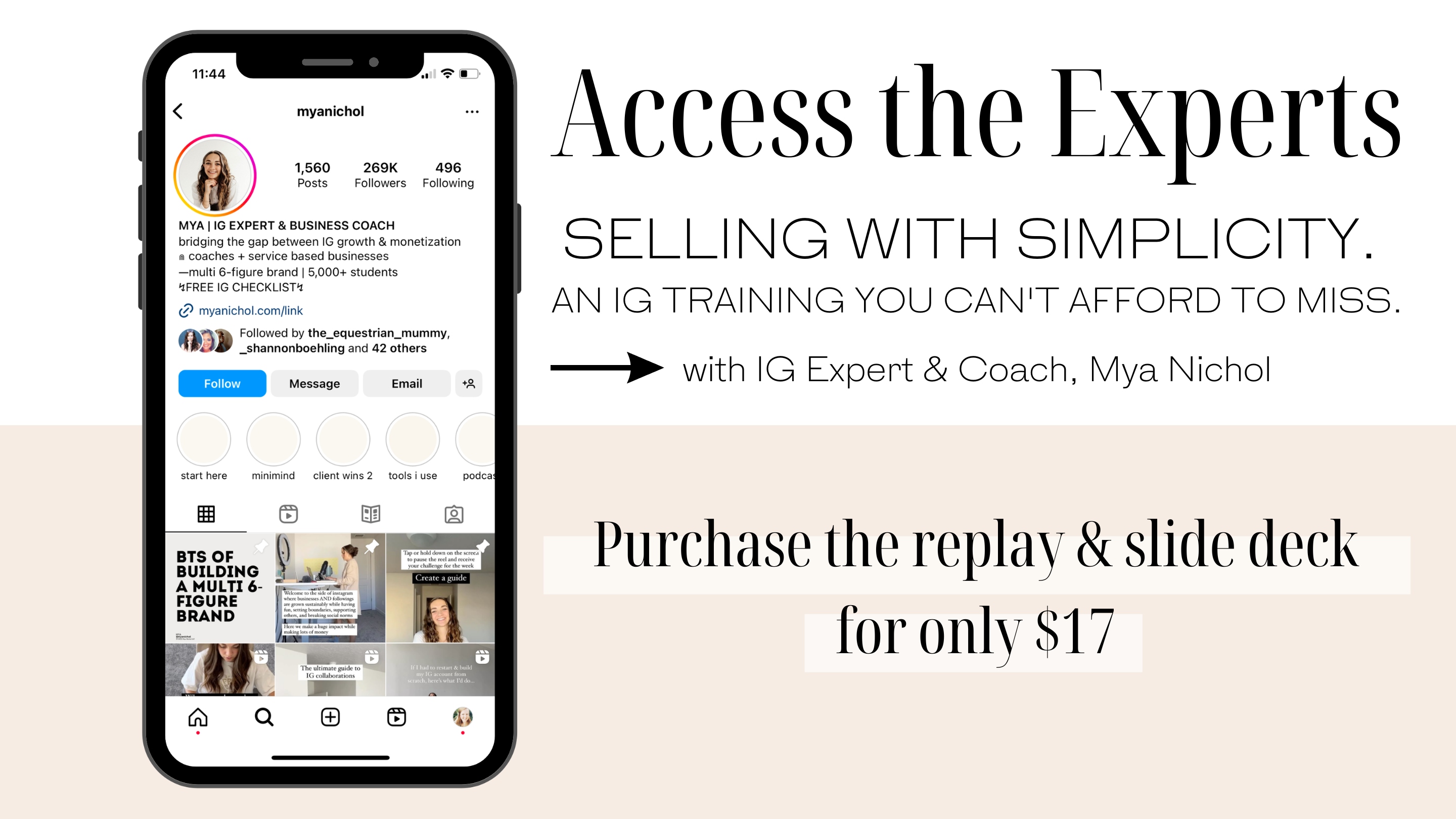 Unlock the Secrets to Instagram Growth - ONLINE TRAINING OPPORTUNITY
Want to dive even deeper into this subject and take action on this new and exciting platform? Grab our Expert Training Workshop and Sell with Simplicity with IG Expert Mya Nichol.
Enjoy Instant Access to the Replay.
Access to the Experts with Mya Nichol, Renowned Instagram Growth Expert, in this Exclusive Training.
Learn the secrets to selling with simplicity on IG leveraging Reels, Stories, Highlights, Dm's and more
Discover how to make selling FUN. (It's more simple than you think)
Unlock the strategies used to create 6 figure months.
Who is Mya Nichol?
Mya is a nursing school drop out who built her business from the ground up using Instagram and is now considered a leading expert in organic Instagram growth.
She grew her following from 0-150K in 8 months

She made her first 6 figures posting from her basement storage room with only a ring light

She has taught over 5000 students how to sell on IG

She runs the Instagram Growth University in over 20 countries

Mya is joining us to teach you the secrets to seeing massive growth in your business using Instagram
If you want in on some of these amazing results like Mya, the best way to get there is to learn directly from her! This training is jam packed with actionable steps you can take today to become an early-adaptor to Threads and really see growth and results from the platform.
---
Get our FREE Marketing Tool Here
Learn more about our Master Your Marketing Program here
Do you have a website? Take this quiz to see how well your website is serving you
Need help with copywriting or design? Inquire here
Get marketing tips to help grow your business sent right to your inbox each Monday